Lazareto Hotel is located at the bottleneck of Monemvasia rock, and is literally surrounded by the sea. You can find us just after crossing the bridge that leads to the Castle on your left hand, at a distance of only 800 m. to the Castle gate itself.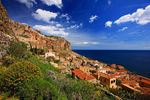 The town of Monemvasia is located on the southeastern part of Peloponnese, in Lakonia region, some 80 km. south of Sparta and 300 km. from Athens. The drive from Athens takes approx. 3 ½ to 4 hours and until Tripoli is along highway. Once in Sparta, you keep on the ring road and follow the signs to Monemvasia. Before reaching Monemvasia, you pass by the towns of Skala, Vlachioti and Molai.
Please, contact us for detailed driving directions or if you wish to arrange for you a taxi or chauffeur transfer from Athens or any other city.
Map

View Lazareto Hotel Monemvasia in a larger map